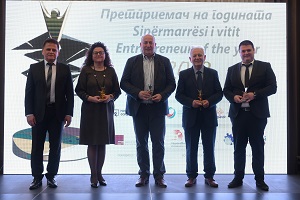 Savings house Mozhnosti part of the manifestation "Entrepreneur of the year 2019"
20.12.2019
The Savings house Mohnosti supported the13-th manifestation "Entrepreneur of the year 2019" in organization of the Macedonian Development Enterprise Foundation (MDEF) that was held on 17-th of December in Skopje.
The purpose of the manifestation is to award and promote the best and most successful entrepreneurs in Macedonia that belong to the micro and small business sector for which there had been appropriate rewards.
Guided by the vision and mission, the Savings house emphasizes the entrepreneur spirit and culture in the Republic of Macedonia and will successfully continue to prove this in the future by supporting this type of events.