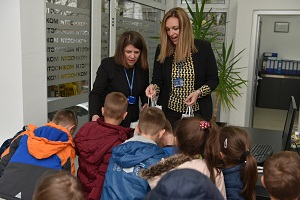 Moznosti together with the youngest
04.11.2019
On the occasion of the World Savings Day, on 31 October 2019, Moznosti Savings House hosted the children from the kindergarten "Detska radost" from Strumica who came to visit the branch office of the savings house in Strumica.
The purpose of the visit was to familiarize the youngest with the work of the savings house, with special emphasis on the importance of acquiring saving habits in everyday life.
The visit was extremely successful. In a pleasant atmosphere, our colleagues welcomed the children, through questions and answers explaining them what it means to save, what the benefits of saving are and how important it is to have a habit of saving from a young age.
In the end, the children received appropriate gifts in memory of their visit to the Savings House Moznosti.
Moving together
Saving house Moznosti